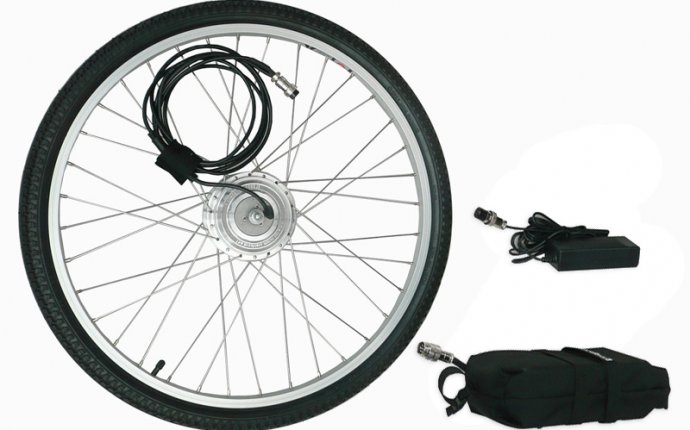 Electric Bicycle conversion Kit with Battery
There are many types of batteries that can power electric bikes. LEED Bicycle Solutions only uses high-grade li-ion battery cells in our electric bike battery systems. The 250 Series (24 volt) battery systems contain Samsung and Panasonic li-ion cells. The kit titles without a "+" are Samsung and the kits with the "+" are Pansonic. For example the 10k vs. the 10k+. The 500 Series batteries use Samsung cells.
All LEED battery systems operate with a proprietary battery management system (BMS) and proprietary controller that allow for a constant and efficient energy discharge as well as a proper charger trickle charge which prolongs the life of the li-ion battery cells. Each battery system is fully enclosed using a proprietary process that keeps the cells cooler during discharge, protected during use, and warmer during cold temperature operation.
The 250 Series (250 Watt) battery systems include a comprehensive 1-year warranty as well as "crash replacement" pricing for the life of the battery system. This allows the user to operate the battery to its full potential and achieve the greatest performance possible for all weather situations without the limitations or concerns of battery life cycles.
Please visit the the blog for comprehensive, specifications, care, maintenance, performance tips, troubleshooting, charging recommendations, and more.
LEED 250S BATTERY DATA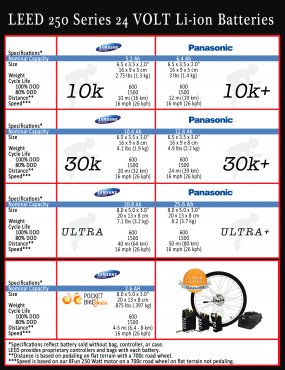 Source: www.e-bikerig.com