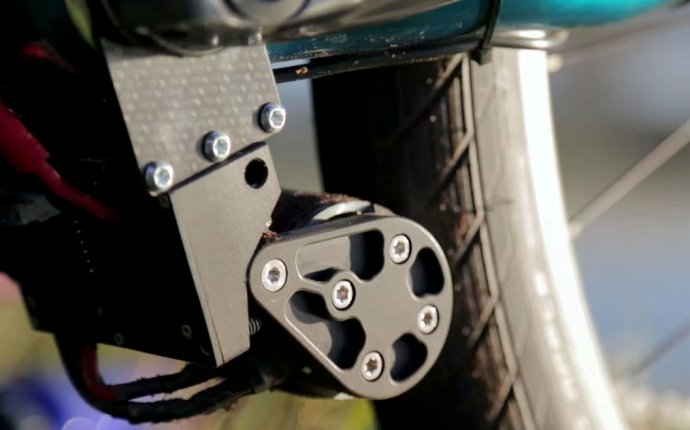 Add electric Motor to Bicycle
Ever notice how hills become steeper as you become older? When you begin to feel like "The Little Engine That Couldn't, " and there's still half the hill to overcome, you might want to consider "The Little Engine That Can"-a small bolt-on bicycle engine. Petrol power added to leg power equals a new dimension in biking.
Now, before all you exercise fanatics begin lighting your torches and sharpening your mattocks to come and get us, we'll be the first to admit the health benefits of a brisk riding workout. But, a proper motor setup still lets you put your mettle to the pedal and burn up the road-and those calories. Maybe you're not at the top of your biking game due to a physical impairment. Pack a putt-putt on your rear wheel and you'll again be taking the long, scenic route home and whipping past the spandex boys to boot.
You can power virtually any kind of bike including recumbents, folders and mountain bikes. Why motorize a mountain bike? Simple. So you can ride up the mountain as well as down, and greatly extend your treks and exploration into the woods, and onto fire roads and logging trails.
Ideally, adding a motor should not change the bike's character or basic ride and handling. A top-quality engine with mounting kit goes for about $500 to $600. Engines ranging in size from just under 25cc to 49cc are made by Honda, Mitsubishi, Tecumseh and Komatsu Zenoah, among others. Drive systems vary from friction drive to chain and belt drives.
We wanted to check out a motorized bike firsthand, so we opted for a KHS TC150 Town & Country comfort model (khsbicycles.com). This bike features a large-tube alloy frame, 21 speeds, Shimano derailleurs with SEC twistshaft shifters-all the good stuff. The bike weighs in at 32 pounds.
For an engine, we went with the 25cc Komatsu Zenoah with a belt drive from Golden Eagle Bike Engines (bikeengines.com). The engine alone tips the scales at under 5 pounds, with the entire kit weighing a mere 11 pounds. This compact unit had minimal impact on the "bicycleness" of the KHS. The larger engines, especially the 49cc jobs, can make your bike more of a moped. Fitted with a transmission and chain drive, these motor packages can weigh over 15 pounds, plus the mounting kit.
Compared to a chain drive, the belt offered negligible drag when pedaling. Since the belt drives a nylon ring that fits around the spokes, you can run knobby tires if you so choose. A friction drive, on the other hand, limits you to a smooth tire.
Installation of the Golden Eagle engine kit was easy and took about a half-hour.
The performance of this little 2-stroke is amazing. It's rated at 1.2 hp, but unlike more powerful, less efficient designs, it delivers more power to the wheel.
We clocked 33 mph out of the box-the engine started instantly with a yank of the pull cord. It uses a centrifugal clutch and thumb-lever throttle. You pedal away from a standstill to ease the initial load on the Kevlar belt, which is said to last up to 5000 miles.
Our test area was in the Adirondack Mountains, so we had plenty of hills. The engine never faltered and took on the grades with verve. It was a delightful, fun ride. Our fuel mileage figured out to be more than 250 mpg. The exhaust is clean (EPA approved through 2010) and quiet-about 70 dBA at idle, 84 dBA flat out. If there was one bang that we couldn't ignore, it was the bang for the buck.
Source: www.popularmechanics.com