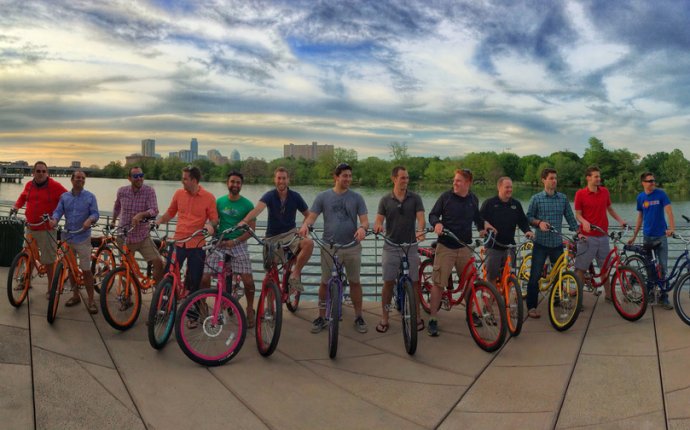 Electric Bicycle Austin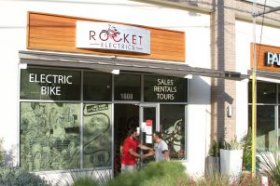 What to Expect from an Electric Bicycle at Rocket Electrics
Think of a beach cruiser with a throttle. The bikes have an ample seat and wide tires. Honestly, they look almost exactly like sturdy beach cruisers, other than a small rectangular box on the back (the battery) and a throttle on the right handlebar.
The folks at Rocket Electrics were great about making sure everyone's bike was adjusted for height. In minutes, we were all off on the tour.
Funny thing was, because we were late, Brittany and I missed the part of the briefing where John explained how to kick in the electric power to the bike. I used to own a scooter, and the principles were the same, so I understood it.
We took off, everyone was just cruising along enjoying the scenery except Brittany who was peddling away to keep up. She never complained; she's a champ and a trooper. But when she started lagging behind a bit, I stopped to make sure everything was okay. Once she caught up to me, she explained to me privately that she didn't "get it" but she didn't want to say anything. I showed her how to turn up the throttle.
The look on her face was priceless.
Our Tour on Electric Bicycles in Austin
We headed in a big caravan across Town Lake and along the Hike and Bike Trail. We ended up at the Long Center for Trailer Food Tuesday. After we parked our bikes, the group enjoyed some trailer food and an amazing view of the Austin skyline.
It was a perfect night. The weather was sublime, the bikes worked perfectly and the live music and food at the Long Center was excellent.
On our return trip, we took a different route through downtown Austin, through the warehouse district, over to Rainey Street and back to the shop at Rocket Electrics.
I honestly didn't want the night to end. This is one of my favorite things I've done in Austin.
How You Can Benefit the Most from Rocket Electrics' Bikes
Whether you are looking to get to the Longhorns game, do the Austin City Limits Festival thing, or just spend a day on the town, there's nothing like doing it on a bike from Rocket Electrics.
Rocket Electrics offers a variety of tours like the one we experienced. Their Rock N' Roll Tour even concludes with a live rooftop concert. Really great stuff!
If you are looking to purchase an electric bike to save on gas and help the environment, you can also do that through them. Their customer service is second to none.
Though the purchase price of these bikes can be steep, the savings on gas, parking and the amount of fun you'll have definitely offsets the cost. Nicole Zinn, the sole proprietor of Rocket Electrics, informed me that Austin Energy has an Electric Bike Incentive Program. If you are an Austin Energy customer, you can receive a $100-$200 rebate when purchasing an electric bike from Rocket Electrics.
Rocket Electrics has also partnered with a local bank to offer financing terms. This is a service that many customers have been asking for from Rocket Electrics, and it's now a reality. Nicole hopes that the new financing service will allow even more customers to enjoy the freedom, fun and savings that an electric bike offers.
Trust me when I tell you that whether you rent or buy, you absolutely must try out an electric bike! Tell John and Nicole that The Austinot sent you.
Source: austinot.com