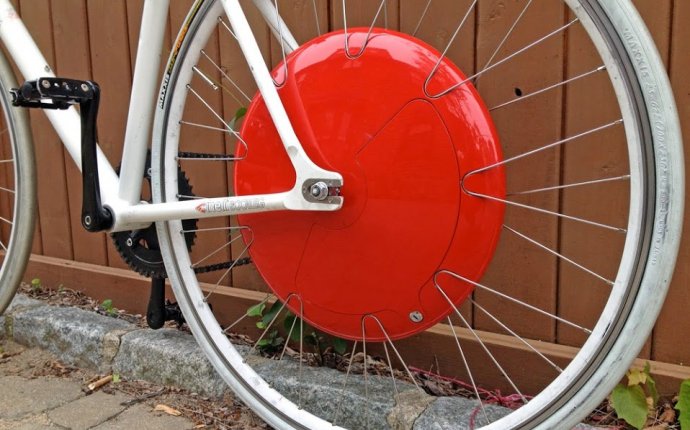 Bicycle wheel electric Motor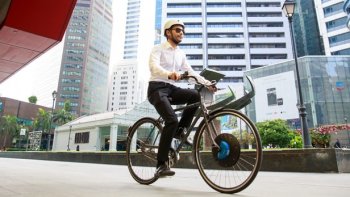 Why buy a whole new e-bike, when you can just replace your regular bike's front wheel with one that has an electric motor? That's the thinking behind recent products such as the Omni Wheel, Electron Wheel and GeoOrbital Wheel. Singapore-based UrbanX has now also thrown its hat in the ring, with its Eco and Booster wheels – while their specs are mostly similar to what we've seen already, they're priced low, plus they're lighter than the competition.
Either UrbanX model can reportedly be swapped with a bike's regular front wheel in just 60 seconds.
Once in place and powered up, it will then augment the cyclist's pedalling power with its own integrated motor. The Eco has a 240-watt motor while the Booster has a 350-watt version, both of which are powered by a lithium-ion battery pack that can be removed from the wheel for recharging. Under typical use, one 1.5-hour charge should be good for a range of about 30 miles (48 km).
The motor-assist level can be selected via Bluetooth using an iOS/Android app on the rider's handlebar-mounted phone – that app also displays data such as current speed and battery charge level. Additionally, an optional bar-mounted controller allows the wheel to be used in a motorbike-like throttle mode. In this case, a top speed of 15 mph (25 km/h) is possible with the Eco, while the Booster manages 20 mph (33 km/h).
Both models are made from aircraft aluminum, and tip the scales at a claimed 15 lb (7 kg). By contrast, the other electric front wheels we've looked at weigh at least 20 lb (9 kg). Those other wheels also range in price from US$799 to $1, 249, while the planned retail price of the UrbanX Eco is $699. The Booster should go for $799, matching the price of the Electron Wheel.
For now, though, the UrbanX wheels are currently the subject of a Kickstarter campaign – one that has already exceeded its funding goal. If all goes according to plan, a pledge of $299 will get you an Eco, with $399 getting you a Booster. A number of rim sizes are available.
Source: newatlas.com